Check out the latest eye-popping pop-up books by Matthew Reinhart! Discover lots of fun facts about your favorite movies, characters or classic fairytales! Click the Learn More link for more information about the books, photo galleries, product specifications and where to order. 
Did you know?
There are lots of hidden easter eggs in this pop-up book! Find all peekaboo windows and discover what's inside!
Harry Potter: A Pop-Up Guide to Hogwarts is an exhilarating, interactive guide to the iconic school of witchcraft and wizardry. This book features spectacular pop-up re-creations of key locations inside and outside Hogwarts castle, and it opens flat to form a pop-up map of the castle and its grounds—including the Quidditch pitch, the Forbidden Forest, and beyond. Learn more...
Did you know?
The Nightmare Before Christmas was based on a poem written by Tim Burton when he was an animator for Disney.
Experience Tim Burton's iconic film like never before with this nightmarish pop-up of monstrous proportions! From the renowned paper engineer Matthew Reinhart comes a mind-blowing retelling of this classic story in gravity-defying pop-up artwork on every page. Learn more...
Did you know?
Jasmine's best friend Rajah originally was in a touring circus group as a cub, but escaped and found his way to Jasmine.
Starring the timeless characters that have made the Disney Princess films a treasured part of pop culture and animation history, this visually stunning volume is packed with intricately designed pop-ups, transformative scenes, and many other surprises. With state-of-the-art paper engineering and beautifully rendered illustrations. Learn more...
Did you know?
Did you know, there are many hidden easter eggs in every Pixar movie. But what about easter eggs in every pop-up?
Featuring five spreads with over 30 pop-ups from New York Times best-selling author, artist, and pop-up master Matthew Reinhart, this breathtaking work of art revisits Pixar's impressive history. Like each Pixar movie, each pop contains Easter eggs! Learn more...
Did you know?
Giganotosaurus was one of the largest known terrestrial carnivores and was even bigger than the Tyrannosaurus rex!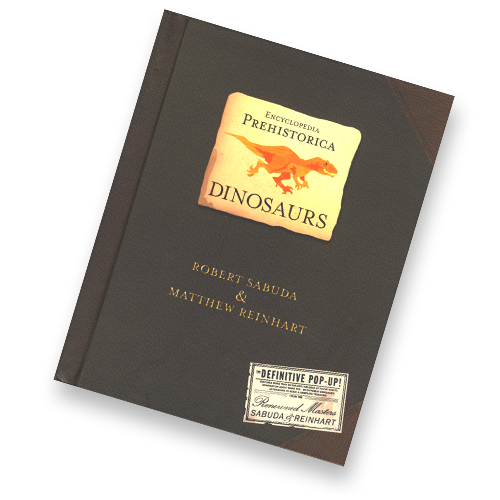 Full of fascinating facts and lighthearted good humor, this breathtaking book includes fascinating information about dinosaurs. With each of six spreads featuring one spectacular, large pop-up as well as booklets of smaller pop-ups, ENCYCLOPEDIA PREHISTORICA: DINOSAURS is a magnificent display of paper engineering and creativity. Learn more...
Did you know?
Yoda was born in 896 BBY (Before the Battle of Yavin) and died in 4 ABY (After the Battle of Yavin) making him 900 years old."
This new look at STARS WARS explores the characters, stories, vehicles, droids, and more in the three prequel movies and the Clone Wars. It's a stunning book that will impress all fans of STAR WARS and gives a whole new perspective to the universe. Learn more...
Did you know?
Olaf's name in Norse means "a relic of ancestral heritage. Anna is loosely based on Gerda, from "The Snow Queen."
Featuring nearly 20 pop-ups from the New York Times best-selling author, artist, and pop-up master, Matthew Reinhart, this breathtaking work of art revisits the enduring story of Frozen. Elsa and Anna's remarkable adventure lives on in a magnificent display of paper engineering. Learn more...
Fun Fact: Each book project takes Matthew anywhere from four months to eight months to complete. That's a long time to wait!
Looking for a particular title or just browsing book list? Enjoy the veritable library of Matthew Reinhart pop-up books! This list of pop-up books is still growing with new publications every year so make sure to check back once in a while for updates. Visit page...
Believe it or not, Matthew Reinhart on occasion creates books without pop-ups. Less paper, but just as much creativity! Take a look at this selection of books that are illustrated by Matthew Reinhart. Visit page...